Twitter testing Product Drops reminder feature
Twitter is introducing a new shopping feature that will help marketers keep audiences up to date on product launches.
With Product Drops, users will be able to tap a "Remind me" button whenever a merchant tweets about an upcoming launch. The button can be found at the bottom of the Tweet. 
If users want to learn more about the product, they can click on the merchant's Tweet, which will take them directly to a Product Details Page. This page will show the price, photos, and a product description as well as a clickable hashtag that will let users look up what other shoppers on the platform have to say about the product.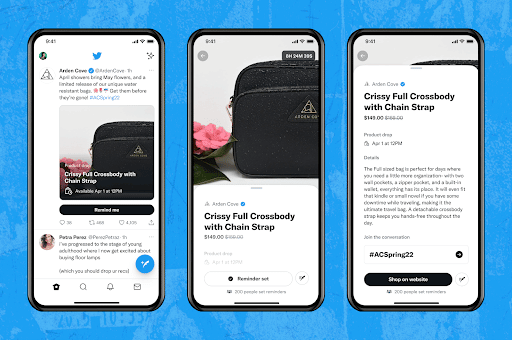 When the official product launch day arrives, users who had clicked "Remind me" will receive an in-app notification in their Notifications tab 15 minutes before and again at the time of the drop. The goal is to let interested shoppers be the first to shop on the merchant's website, ideally getting the product before it sells out. 
Users that click on the notification will see a "Shop on website" button that will take them directly to the item on the merchant's e-commerce site. 
Right now, the feature is only available to users in the U.S. who use Twitter in English on iOS devices. Twitter is also only making Product Drops available to select brands, such as Dior, Fossil, Home Depot, Lego, Union Los Angeles, and Staple, while it's in the testing phase.
According to Hootsuite's 2022 Social Trends Report, e-commerce is supposed to grow from $792 billion in 2020 to $1.6 trillion in 2025. Since it's clear that shopping on social isn't going anywhere, platforms like Twitter will likely continue to ramp up their shopping features.